SPX Flow operate in many countries and needed somewhere to centralize lead data and control access. SPX Flow can now present material digitally and use forms through OmniShare, to collect and save lead information directly in-app.
Access is centralized and defined across countries and users/groups. All lead information can be stored digitally and exported from the app with ease.
SPX Flows' pay-off with OmniShare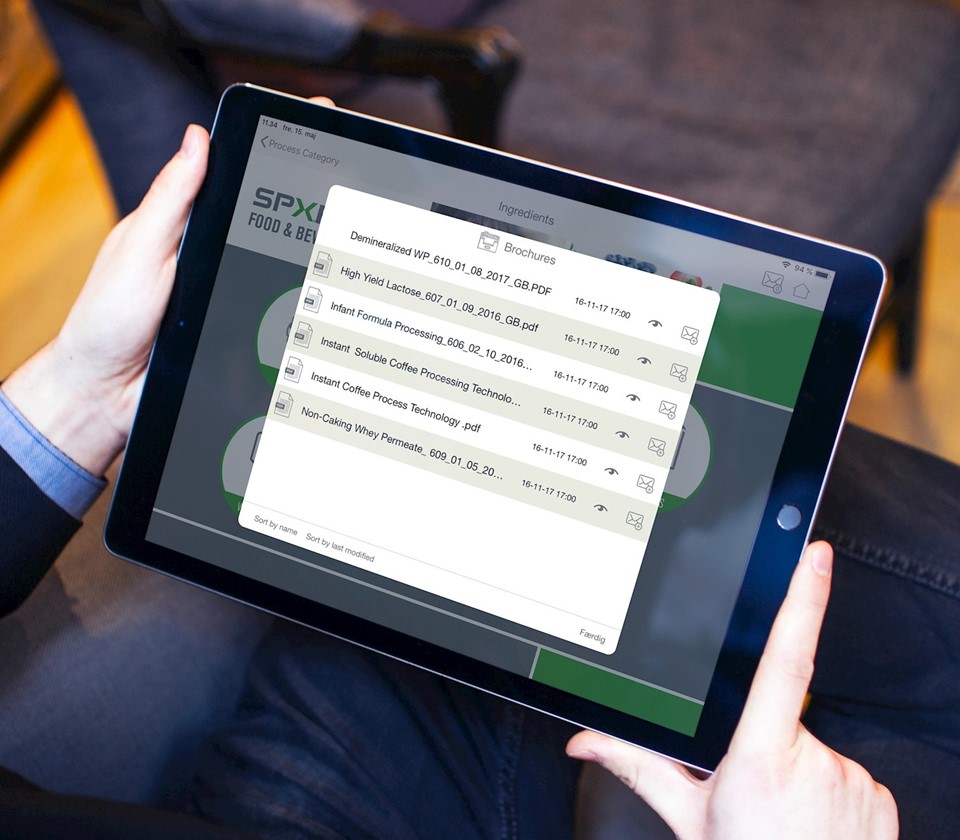 Centralized access
Through the back-end, SPX Flow can create user-groups and control access to content. This makes it possible to differentiate content across groups, countries and languages, providing centralized access control.
Everything can be setup within 'folders' making it easy to administrate access over time.
This features ensures that certain users only have access to relevant content, making their work easier to focus on, as they do not have to search through all SPX Flows documents.
Through user administration, it is also possible to send push-messages to certain users or groups and collect data about app versions.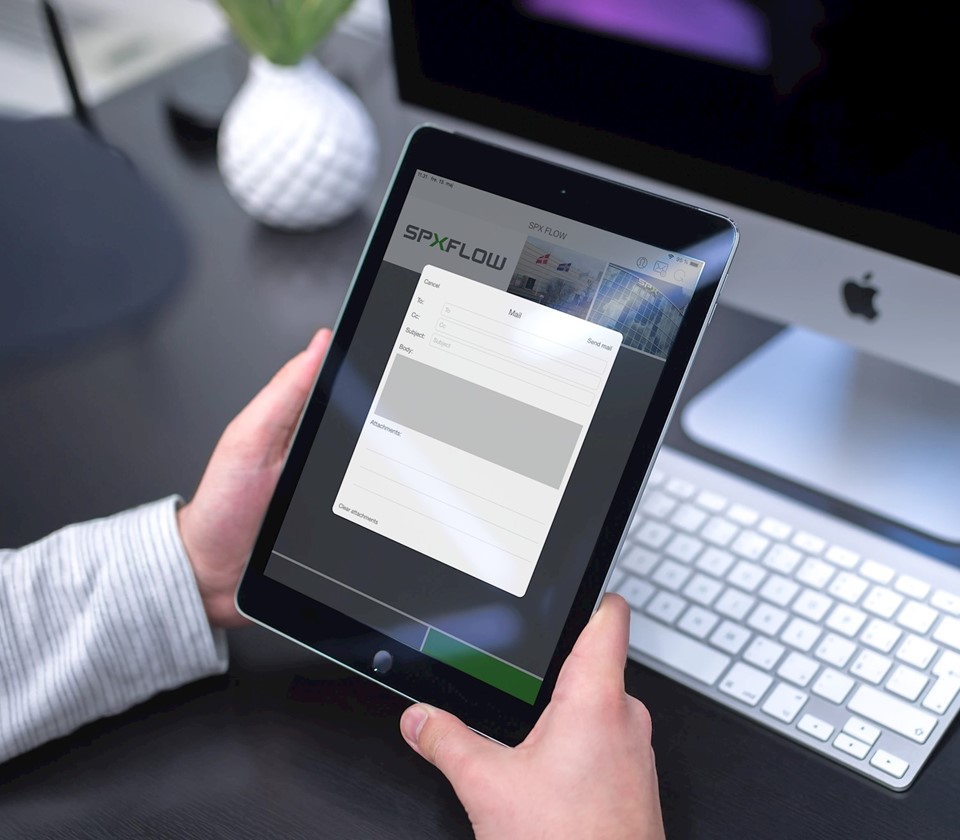 Optimized workflows
OmniShare has been adjusted to specifically accommodate SPX Flows needs. Now SPX Flows enjoys daily optimized workflows thanks to a wide variety of features at their disposal.
SPX Flow have a unique and customized tool for data collection, digital presentations and tracking of user behaviour and frequency of content used in-app.
With OmniShare, it is possible for SPX Flow to upload videos, images, sound and PDF files, which can be targeted at their many markets and languages. OmniShare is a truly optimized workflow tool.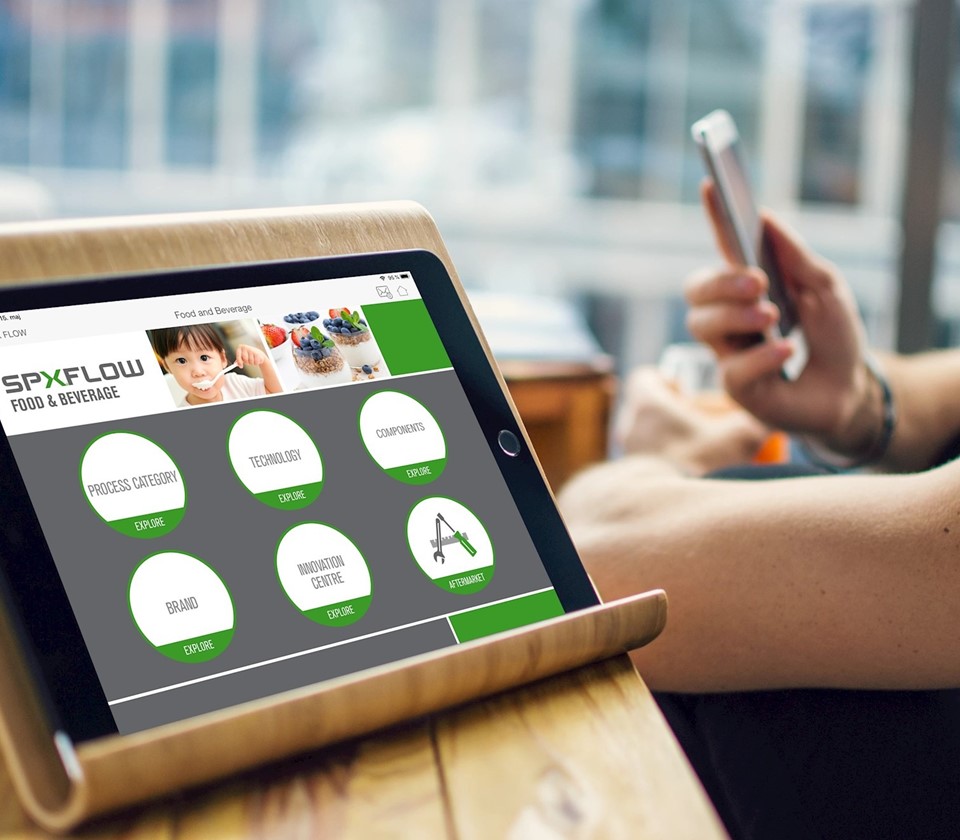 Better data
In-app forms makes it possible to design and use forms both online and offline. SPX Flow uses forms to collect leading data at trade fairs, at sales meetings, for product inquiries and much more.
When a form is submitted, the data is sent to a central database where the data can be exported as a CSV or XML file.
Administrators of the app can create new forms and edit existing forms directly from the back-end with relative ease.
All common field types, such as single and multiline, dropdown, checkboxes etc. are supported, giving SPX Flows a lot of flexibility in regards to collecting the right data. This also includes attaching documents and files such as images and video.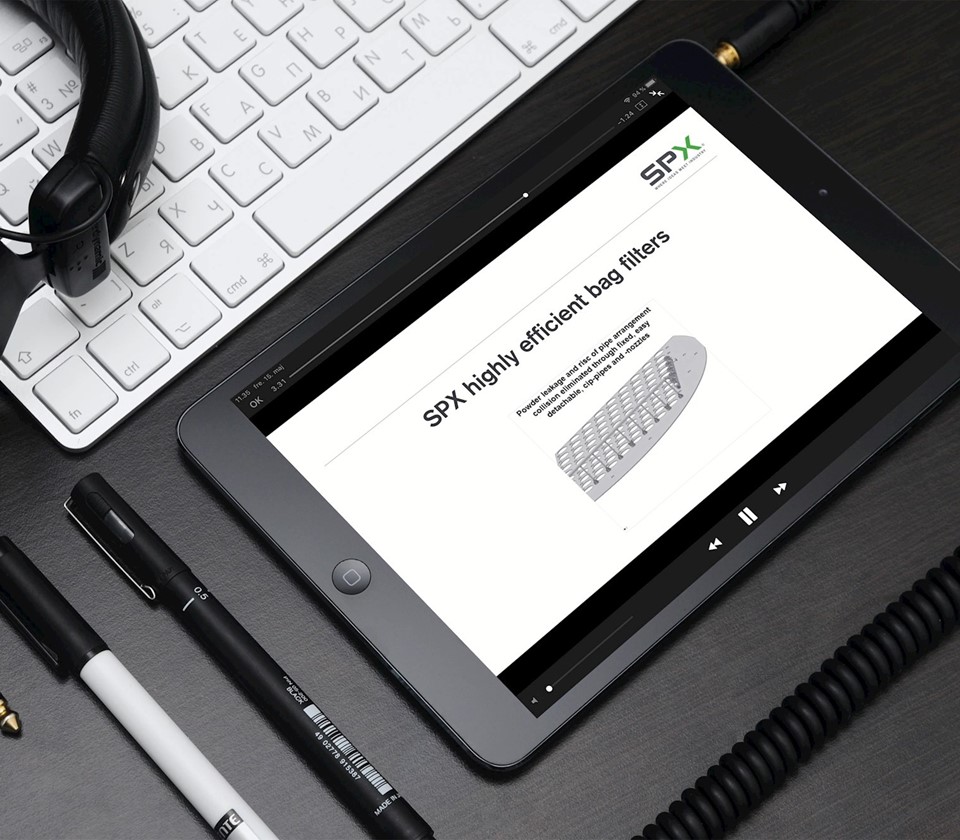 Lead collection
All lead information can be stored digitally and exported from OmniShare with ease.

The OmniShare app for SPX Flow has a tracker function, which gives SPX Flow valuable insights into user behaviour i.e. which content is being used frequently and by whom etc.
In order to use this feature, each user has to agree to the "terms of use", which is done through a two-factor agreement in the app.
With the built in tracker, it is easy for SPX Flow to keep track of their users activity, uploaded content and versions of material, in order to easily analyse which users are most active and which will need to synchronize their app after a long hiatus.
Insights about users and content means that SPX Flow can send targeted push-messages with reminders to update the app, and also collect valuable data to optimize their lead communication.
SPX Flow
SPX Flow produce specialized equipment for production industries. They design, develop, test and produce custom industrial equipment for their customers.
SPX Flow actively produce products in 30 countries and have sales operations in more than 100 countries.